expedition through the Western Desert

For many years, the Western Desert was closed to tourists. From 2022 it is now possible to travel there again. The oasis belt (Bahariya, Farafra, Daklah, Kaharga) with its very varied desert landscape, White & Black Desert, offers beautiful nature experiences and unforgettable campgrounds.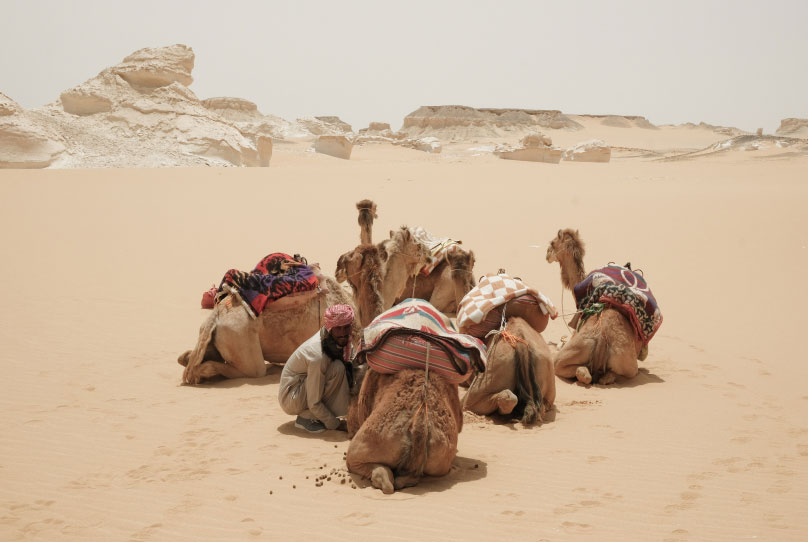 Day 1 — Travel to Bahariya (if you are in Cairo you will be picked up by our guides, airport or hotel, and drive to Bahariya). There you will stay in a camp with bungalows for 2 people each, dinner and breakfast.
Day 2 — In the morning you will meet camels and guides. An escort vehicle takes the luggage and prepares the camp. After two hours of riding we take a short break (fruit, drinks) and then ride another two hours to our rest area. After lunch and an extended break, we will continue riding to our night place. The accompanying team awaits the caravan there, the tents are set up and dinner is freshly prepared. You can sleep either in the open air, in a large community tent or in small tents (2 persons).
Day 3 — Yesterday's schedule is repeated. We ride through a different landscape every day. For the inexperienced rider, riding a camel is a bit exhausting, for this reason we always take breaks and of course there is always the possibility to walk a section.
Day 4 — Riding day, as before.
Day 5 — After breakfast we ride until the lunch place and are taken from there back to Bahariya – Transfer to Cairo or Luxor
The cost of such a trip depends on the number of people, — min. 2. adventurers. Between 100 and 150 € per person/day. Prices may actually vary — please ask specifically. The program may change due to the political situation in Egypt — even while traveling.