The unforgettable White & Black Desert

A special experience is an expedition through the Western Desert. For many years, the Western Desert was closed to tourists. From 2022 it is now possible to travel there again. The oasis belt (Bahariya, Farafra, Daklah, Kaharga) with its very varied desert landscape, White & Black Desert, offers beautiful nature experiences and unforgettable campgrounds.
6 day trip with a 4×4 vehicle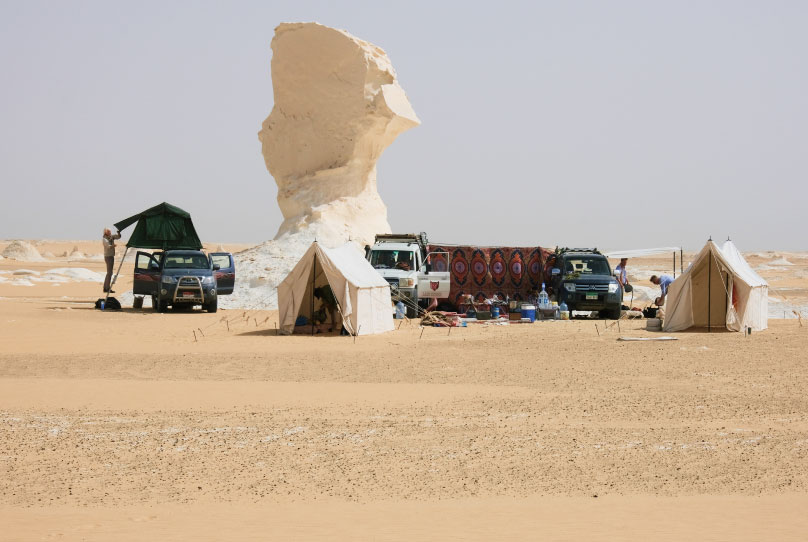 Day 1 – Travel to Bahariya (if you are in Cairo you will be picked up by our guides (airport or hotel) and drive to Bahariya). There, you will stay in a camp with bungalows for 2 people each, dinner and breakfast.
Day 2 – With a 4×4 vehicle you start your excursion, cross the Black Desert and visit the legendary Crystal Mountains. Continue to the White Desert, overnight outdoors.
Day 3 – Continue, sand dunes, bizarre desert landscape, overnight stay outdoors.
Day 4 – Continue to Dakhlah (part tarred road), visit the old town (very interesting architecture from the 12th century), shifting dunes, overnight stay outdoors.
Day 5 – Continue to Kharga, Labakha, visit the oasis with Roman temple, tombs and qanat.
Day 6 – Visit to Kharga Oasis, Bagawat (one of the oldest Christian cemeteries from the 3rd century), continue to Luxor.
beautiful nature experiences and unforgettable campgrounds
The cost of such a trip depends on the number of passengers. Per vehicle max. 3 persons. If there are more than 6 people, a supply vehicle (water, food, equipment) must be on board.
Price example: 2 persons: 4 x 4 vehicle and driver, permissions, food + drinks (full board), tents, sleeping bags, complete camping equipment, overnight stay in Bahariya, entrance fees/gratuities = 1.100,00 €. Transfer Luxor – Cairo NOT included!
Prices may actually vary – please ask specifically. The program may change due to the political situation in Egypt – even while driving.